Take part in Doodle Champion Island Games to experience exciting matches with Lucky!
Basic Information of Doodle Champion Island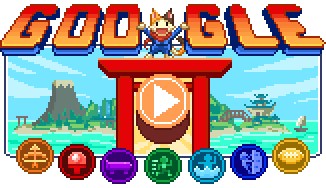 Coming to this video game, you can experience exciting journeys with the lovely cat, Lucky. She is a feline athlete and is on her way to Champion Island where an exciting festival is taking place. Here, there are many different sports. Help Lucky to conquer all these competitions!
Doodle Champion Island Games is an adventure game where you transform into Lucky to compete in 7 different sports. Become a champion by collecting sacred scrolls.
This online game is produced by Google in 2021 in Japanese style. It belongs to many different genres such as action games, sports video games, or simulation games. It is more categories than Shell Shockers. These genres are combined together to create the most amazing game.
Basic Tutorials
How To Become a Champion
It is not difficult to play this video game. You only need to control Lucky by using ARROW KEYs to overcome the challenges.
There are 7 challenges corresponding to 7 sports.
Archery
Artistic Swimming
Skateboarding
Climbing
Table Tennis
Rugby
Marathon
Use your skillful control to win. After completing these 7 competitions, a hidden challenge is waiting for you. Conquer and get sacred scrolls! This is your time to become the Champion of the island! Good luck!
This Doodle Champion Island Games is fun thanks to its varied sports gameplay. It's not just a single gameplay like the 2048 game.
Some Notes When Playing Doodle Champion Island
During Lucky's journey of discovery, you can compete with NPC opponents and complete side quests. Try to get points from these mini-games. Your team will gain the victory if you have more points. Note that you can choose 1 of 4 teams with different colors: Red, Blue, Green, and Yellow. Have a nice time with Doodle Champion Island Games!