Without a doubt, Krunker is one of the favorite mobile shooters in the action game world. Coming to this shooting game, you can experience the ultimate matches with other players around the world. It will be a fun experience!
What is Krunker.io
Krunker is a shooting-survival game. This multiplayer game requires players to fight and shoot down as many other players as possible. By participating in this action game, you can experience first-person shooting. Gun battles will become more intense than ever when you fight from this perspective.
Some Basic Information About the Game
On May 20, 2018, Krunker was first released to players worldwide. Immediately, this shooting game has brought the great appeal to enthusiasts of action games. FRVR and Yendis Entertainment Pty. Ltd are the publishers of this io game. After the initial success, publishers quickly developed the game with many new improvements. In particular, the diversity of playing platforms has been raised. Players can experience Krunker on 7 different platforms: Web browser, Microsoft Windows, iOS, Android, Linux, macOS, and Mac operating systems.
Basic Playing Guide
How To Play Krunker
Control your character to fight in the pixelated 3D world. This 3D world will take you to gun battles with other players. Try to shoot down your opponent while protecting your health. If you run out of health, the game will be over. In order to keep track of your health, see the bottom left. Your opponent's health is the health bar above their head.
During the battle, flexibly use a variety of weapons to fight effectively.
How To Control
Move your mouse to look around.
Click the left mouse button to shoot.
Use WASD to move.
Press Spacebar to jump.
Use Shift to crouch.
It's easy to play, However, when controlling your character, you should jump to avoid the attacks of your enemies. This is a useful tip for players.
Krunker's Latest Version v6.0.9
This shooting game is always updated to compete with other rival games like Shell Shockers. As a result, the latest version, called v6.0.9 has been released and gives players a new experience.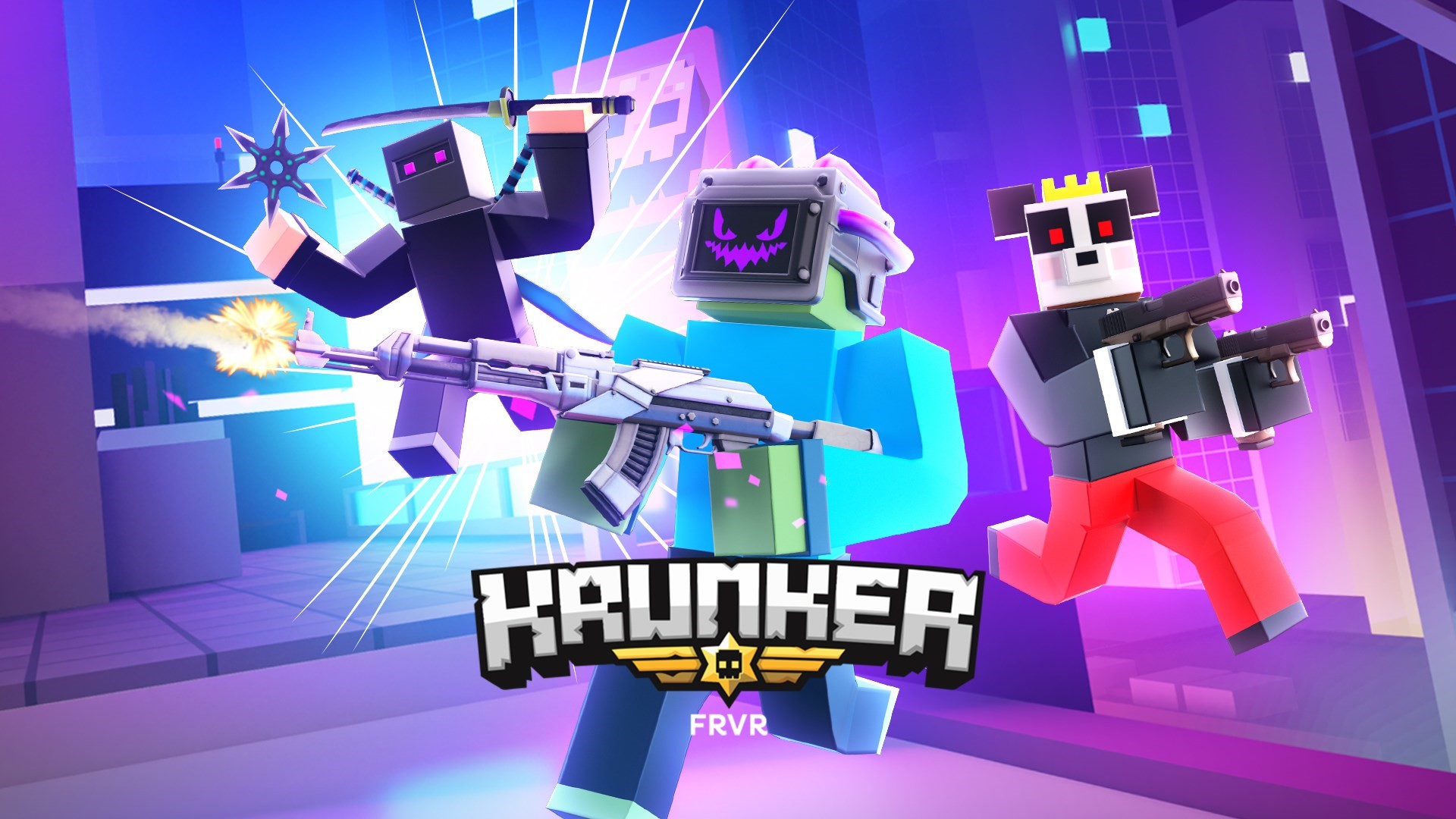 First, this io game has added a lot of general properties. If you are in the VIP battle-pass tier, you will get 25 more levels. The choice to spectate mini-map has also increased. Besides, you can spin to get a popup ticket in the Prize wheel section of the Shop. The popup also has many changes when you access it.
Second, the Krunker.io game also fixed bugs in the previous version such as errors in weapon selection, weapon aiming angle, and AI sound.
Besides innovation, this upgraded version also includes previous features. You can still buy a lot of items in Shop & Crafting like Prize Wheels, Premium, Redeem Keys, and Purchase KR. 10 different characters are available for you. You can choose and select any character. Moreover, Challenge, Hub, and Esports modes are indispensable in these visits to the Krunker game. Remember to log in before playing these exciting modes for the best experience!